Multiway Uplift Replacement Bra Straps (Black) | by PIN STRAPS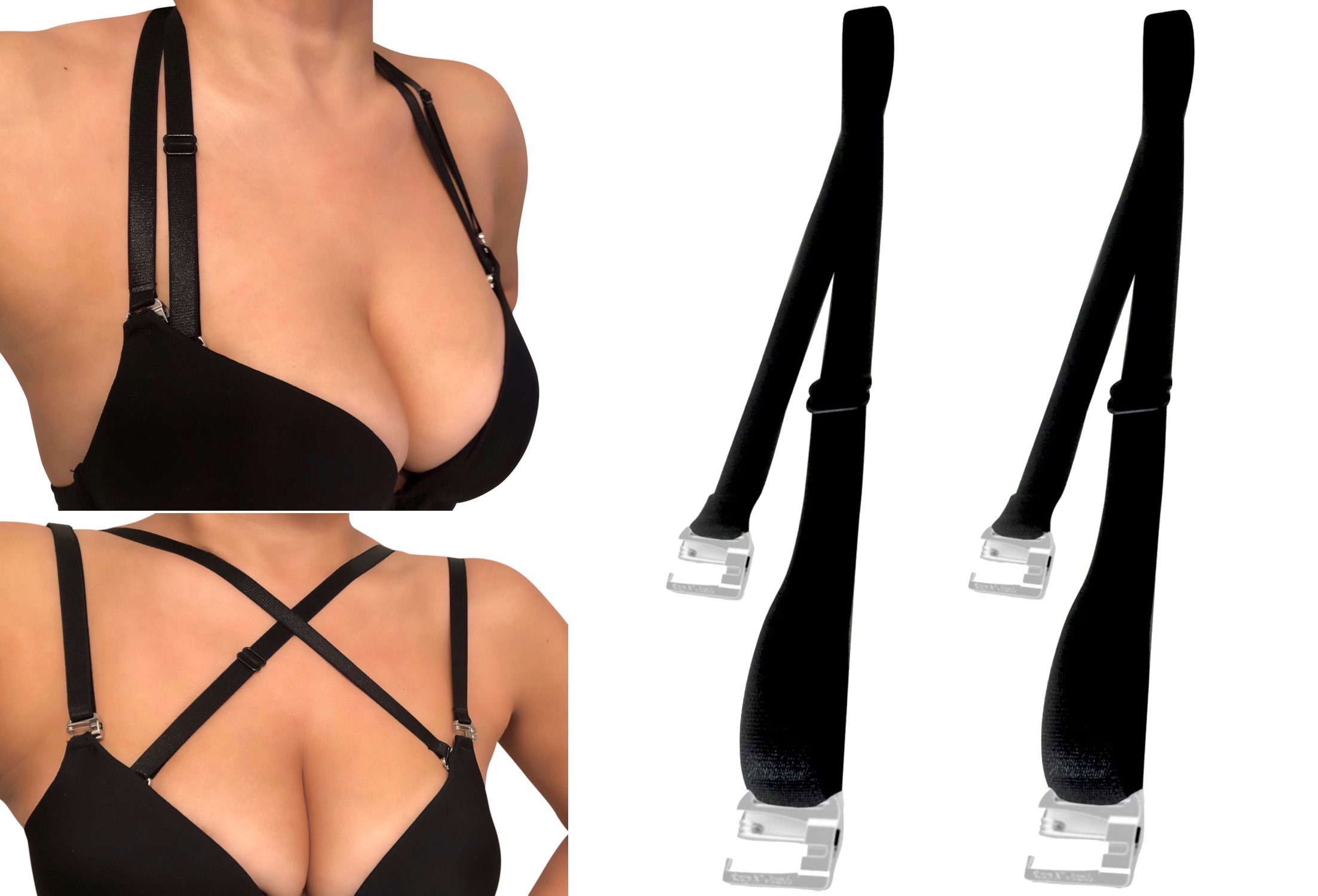 Multiway Uplift Replacement Bra Straps (Black) | by PIN STRAPS
DESCRIPTION
Includes 2 (1 pair) Black
The World's First and Only Multiway Uplift Bra Straps with an ergonomic clip on Pin-Latch-Hooks attachment on each end of straps | by PIN STRAPS™️
NO-SEWING, NON-SLIP!
Tired of your traditional bra straps falling off your shoulders, hooks breaking or slipping off, uncomfortable straps digging in feeling like is killing your shoulders, dreadful sewing of broken straps, bra straps leaving you unsupported and limited styling options. No more, with Bella's PIN STRAPS™️ you'll have a personalized comfortable fit on your shoulders, ultimate lift & support and will stay right where you want them. Saves your bra and from having to sew.
They are easy to use, detachable, and interchangeable for limitless configurations.
Ultimate Solution
Unlike others' bra straps, our re-invented replacement bra straps have an ergonomic built in Pin-Latch Hook technology that discreetly clips on to secure your straps in place and customize your fit and styling needs, comfortable, and fits all bra sizes.
Instantly can replace and fix your broken or stretched out straps saving your bra -can also secure your strapless outfits - all without having to sew.
Multiway
Our functional clear straps are multiway — You can turn virtually all your bras into multi-way bras for wearing with ALL your outfits.
You can wear them straight, x-criss cross, halter neck, racerback, one shoulder, V style, and more! — Makes options more available for your entire closet!
Provides you comfort on shoulders, and ultimate uplift support for your breasts as well as personalized fit and versatility for all your bras, sportsbras, shapewear, corsetts, dresses, costumes, tops, swimwear, leotards, etc.
EXTRA TIP: If your bra have non-removable straps you can tuck those straps on the side or if your straps are old or stretched out you can simply cut them off and clip your new Pin Straps on and your bra works like it's new again — the straps will lay comfortably on your skin and no strain on your shoulders.
Max Support
Proven to support up to triple K's busts plus size, instant busts lift and provides you the best cleavage control.
Detachable
Safe to use on any fabric and removable so straps can be used again and again.
Perfect for adding to all your bras, shapewears, bodyshapers, strapless garments, swimwear, corsets, dresses, costumes, leotards, dance wear, sports bras, strapped outfits, and more!
+ UNIQUE FEATURES
Multiway j hook with built-in Pin Latch for convertibility and provides ultimate uplift, security and support
Instantly attaches to virtually all bras, Victoria Secret's bras, bralettes, strapless, convertible bra, shapewears, bodyshapers, corsets, strapless outfits, strapped outfits, sports bras, swimsuit, leotards, dance wear, and more!
Fully Adjustable and removable, to use with all your bras and garments
Instant fix! No sewing! Replaces broken, worn out, old straps and prevents strapless malfunctions
Gives you two options for attachment: hooks as well as pin clips
Comfortable on shoulders and easy to use
Multiway: can be used straight, x-criss cross, halter neck, racerback, one shoulder, V style, and more!
Gentle on skin shoulders and strong hold; works with virtually every bra size -- proven to support up to triple k's busts plus size
Can also be used with or without a bra, the choice is yours!
+ SIZE
Fabric Straps length: 10 inches extends up to 20 inches
Fabric Straps width: 12mm
+ MATERIAL
Nylon and Elastic Spandex of High Quality, Soft Padded Plush Back; Smooth Satin Front
Pin-Latch Hook — Metal and Stainless Steel
+ CARE USE
Machine washable, air/line dry