Shamballa Halter Neck Backless Bra Dress Straps | by PIN STRAPS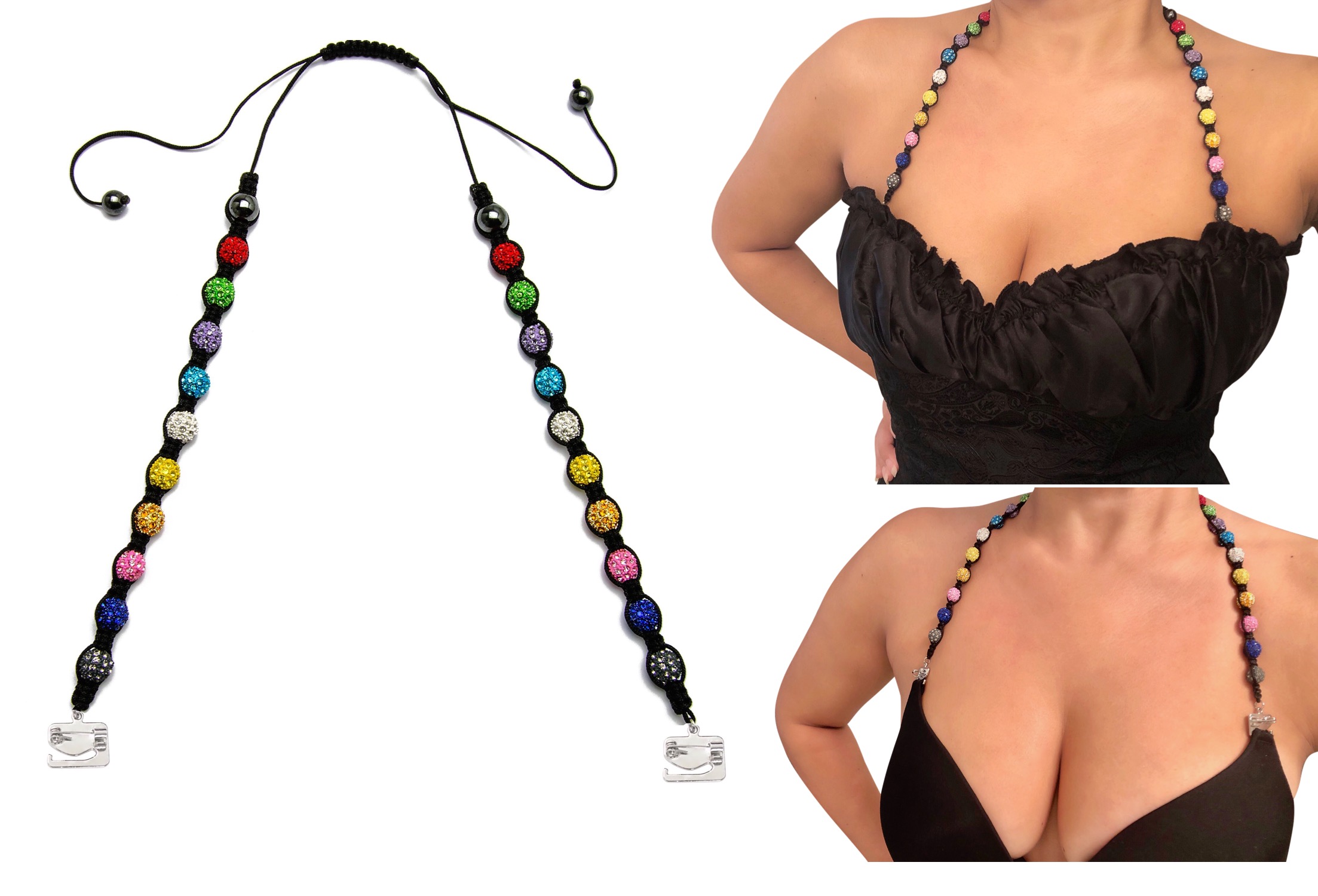 Shamballa Halter Neck Backless Bra Dress Straps | by PIN STRAPS
DESCRIPTION
Includes 1 Shamballa Halter Neck Strap with built in clip on Pin-Latch-Hooks ( available in variety of colors )
NO-SEWING, ULTIMATE SUPPORT, NON-SLIP!
The World's First and Only Halter Neck Strap with clip on Pin-Latch-Hooks attachment on each end of strap
One of a kind, first and only Shamballa halter strap, exclusive design by Bella's PIN STRAPS - truly a stunning piece of art!
Shamballas beads is a fabulous trend seen on many high profile artist and hip hop celebrities and now available in trending Shamballa halter bra straps exclusively designed by Bella's PIN STRAPS.
Shamballa beads are known to each having its own meaning, and way of channeling positive energy. Wear it everyday or for that special occasion -- What better way to show your spiritual devotion than to wear one these stunning Shamballa halter fashion strap.
MULTIWAY
Our unique halter strap have unique built-in ergonomic Pin-Latch Hooks on each end of strap so you can reattach them in different ways to wear with all your clothes where the straps of a standard bra will normally show or slipping garments.
Can be used halter neck or V style. Adjustable; this style halter shamballa adjusts quick and easy same as shamballa bracelets.
MULTI-FUNCTIONAL
This unique halter strap can simultaneously hook to your bra and the discreet pin clips on your outfit -- can also work without a bra...the pin clips on wherever you need it -- All without having to sew!
Great for a flawless bare back look and for backless low-cut fashion wear.
MAX SUPPORT
Proven to support up to triple K's busts plus size, instant busts lift and provides you the best cleavage control.
EXTRA TIP: If your garment have non-removable straps you can tuck those straps on the side or if your straps are old or stretched out you can simply cut them off and connect your new Pin Straps.
DETACHABLE
Halter strap is safe to use on any fabric and removable so it can be used again and again.
Perfect for adding to all your bras, shapewears, strapless garments, corsets, dresses, costumes, dance wear, strapped outfits, off-shoulder tops and more!
+ UNIQUE FEATURES
Multiway j hook with built-in Pin Latch for convertibility and provides ultimate uplift, busts support and secures your garment in place
Instantly attaches to your traditional bra, Victoria Secret's bras, strapless garments, convertible bra, shapewears, corsets, strapless outfits, strapped outfits, dance wear, costumes, and more!
Fully Adjustable and detachable, to use with all your bras and garments
Instant fix! No sewing! Replaces old bra or dress straps and prevents strapless malfunctions
Gives you two options for attachment: hooks as well as pin-latch clasps on to your intimates and apparel
Comfortable, easy to use, safe to use on fabric
Multi-Way: can be used halter neck or V style
Strong; works with virtually every bra size
Can be used with or without a bra, the choice is yours!
+ SIZE
Fully Adjustable; Halter shamballa crystal beads Strap length each side 7 inches (total 14 inches long) + 5 inches of extendable nylon on each side
Beads diamater: 10mm
+ COLOR & MATERIAL
Shamballa crystals in variety of colors: multicolors, red, gold, silver, amber, lilac, purple, black, white,
Nylon strap strong hold and comfortable on skin
Patented Pin-Latch Hook — Metal and Stainless Steel