4 Shoulder Bra Straps Pain Relief for Big Breasts or Plus Size Women | by PIN STRAPS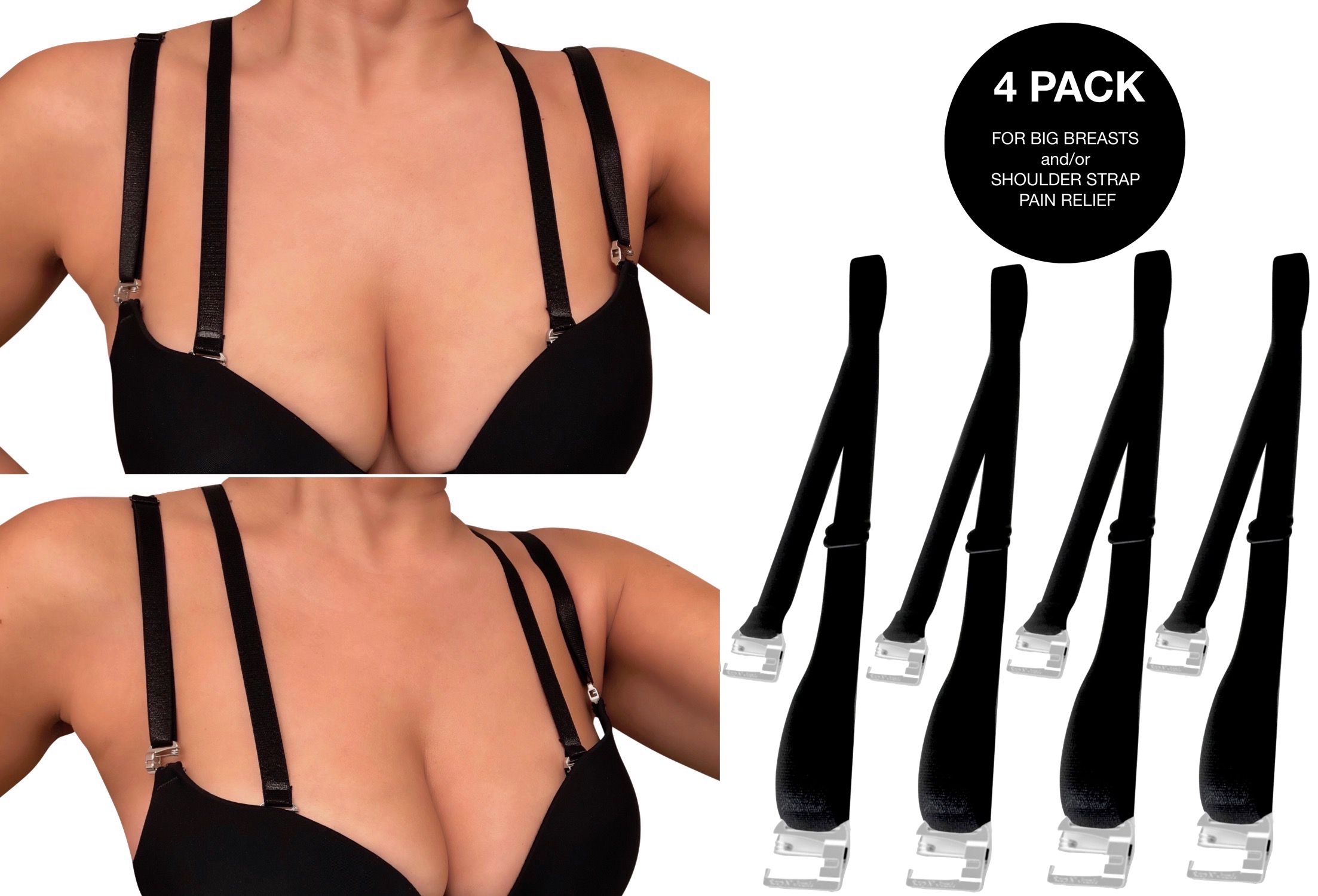 4 Shoulder Bra Straps Pain Relief for Big Breasts or Plus Size Women | by PIN STRAPS
DESCRIPTION
Includes 4 PIN STRAPS — Perfect for plus size women and or if you have big breasts
Choose your favorite colors at checkout: 4 Black, 4 White, or 4 Beige
The World's First and Only Multiway Uplift Bra Straps with ergonomic clip on Pin-Latch-Hooks attachment on each ends of the straps | by PIN STRAPS™️
NO-SEWING, NON-SLIP, NO-STRAIN on SHOULDERS
If you have big or sagging breasts looking for best busts lift and support and or perhaps you been looking for a solution to your bra straps dilemma — suffering with pain & discomfort on your shoulders, neck and back due to bra straps digging in your shoulders and feels like your straps are killing you — you are not alone. Our innovative bra straps can help you — Our bra straps technology is a heaven sent solution. — Invented by a woman for women.
With our technology advanced dual bra straps, within seconds, you can customize virtually all your bras to achieve a comfortable fit on your shoulders and busts uplifts.
You can quickly and easily transform your uncomfortable bra into a comfortable fitting bra by simply replacing your bra straps with your new innovative bra straps — All without having to sew!
MULTIWAY
You can turn virtually all your bras into multi-way bras for wearing with ALL your outfits. Our unique convertible straps have a unique built in ergonomic Pin-Latch-Hook on each end of strap so you can reattach them in different ways to wear with all your clothes where the straps of a standard bra will normally show or slipping garments.— Can be used straight, x-criss cross, halter neck, racerback, one shoulder, V style, and more! -- Makes options more available for your entire closet!
EXTRA TIP:
If your bra have non-removable straps you can tuck those straps on the side or if your straps are old or stretched out you can simply cut them off and clip your new Pin Straps on and your bra works like it's new again. — Add 2 straps on each side of your bra — this helps to distribute busts support evenly to prevent strain on shoulders which could help prevent Bra Strap Syndrome — the straps will lay comfortably on your skin and no strain on your shoulders.
Max Support
Proven to support up to triple K's busts plus size, instant busts lift and provides you the best cleavage control.
Also, fantastic for for nursing mom's too! In just seconds makes your favorite bra into a nursing bra.
Size
Each Fabric Straps length: 10 inches extends up to 20 inches
Each Fabric Straps width: 12mm
Material
Elastic Fabric Pin Straps — Nylon and Spandex of High Quality, Soft Padded Plush Back; Smooth Satin Front
Patented Pin-Latch Hook — Metal and Stainless Steel
Care Hand wash and air dry, Machine washable and Dryable
Video
Great tips on how to use Click here